All Posts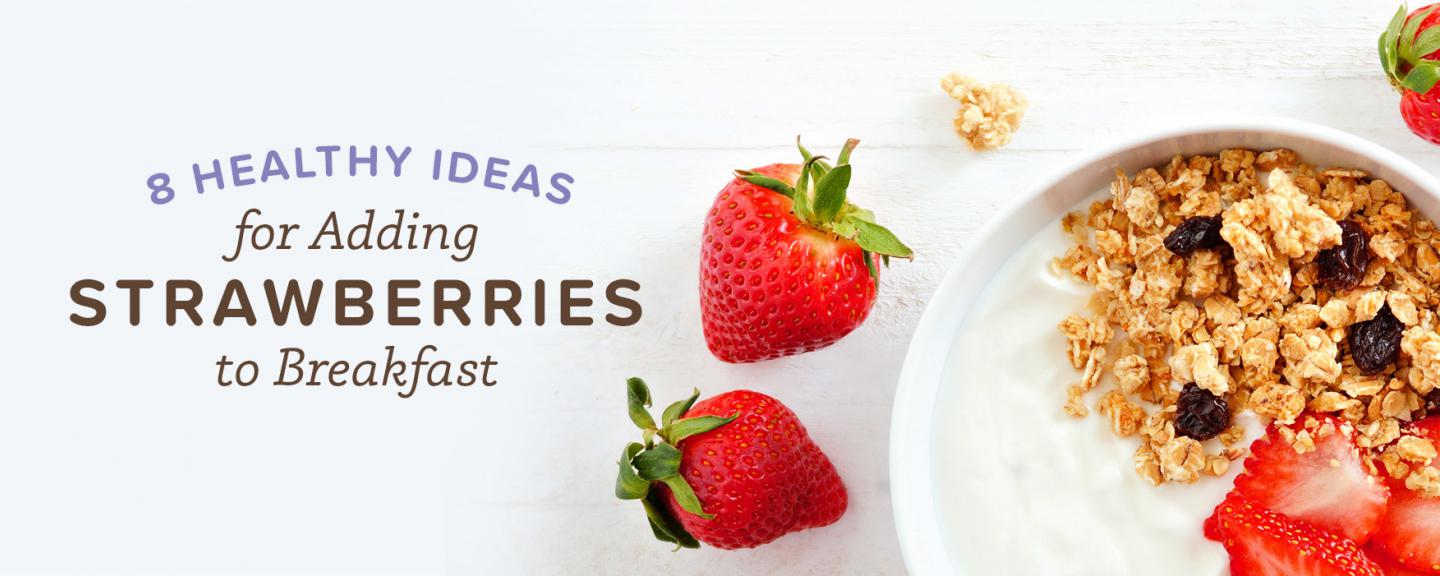 8 Healthy Ideas for Adding Strawberries to Breakfast
by Tori Schmitt, MS, RDN, LD

When it comes to fresh fruit for breakfast, many people enjoy the super sweet taste of juicy strawberries. That's a great thing! Strawberries are packed with vitamin C, fiber, folate, and phytonutrients, which make them a healthy addition to your meals and snacks. Eating this luscious fruit at breakfast time is certainly a good idea. If you love strawberries just as much as we do, check out these delicious ideas for how you can eat and enjoy strawberries at breakfast more often!

1.) Swap Sugar on Oatmeal for Strawberries
Strawberries are sweet on their own - no added sugar is needed! Swap out added sugar or syrups on your oatmeal for fresh, sliced strawberries instead. I enjoy making oatmeal with an unsweetened almond beverage, then topping the cooked oats with strawberries, flaxseeds and hemp seeds for extra fiber, healthy fats, and protein. For an even more unique breakfast, try exchanging oatmeal for quinoa, amaranth, or sorghum. Watch how I add frozen berries (yes, frozen!) to oatmeal here:
2.) Layer Sliced Strawberries on Top of Avocado Toast
On a piece of whole grain toast, add mashed avocado, a layer of sliced strawberries, a drizzle of balsamic vinegar, and a sprinkle of hemp seeds. This unique sweet and savory combo may surprise you in the very best way – and it may even become your next regular breakfast choice!
3.) Combine Strawberries with Greek Yogurt
The combination of Greek yogurt and strawberries offers nutrients, like probiotics and fiber, which can support good digestive health. You can enjoy this gut-friendly combo in a variety of ways, like by topping Greek yogurt bowls with strawberries, by layering the two to make a parfait, or by adding a dollop of plain Greek yogurt overtop a dish of strawberries for a whipped-cream feel.
4.) Craft a PB & B Superfood Bowl
Make your own PB & B -- Peanut Butter & Berry, that is -- Superfood Bowl! It's easy: just add your favorite berries to a bowl, layer overtop an exotic fruit like kiwi, dragon fruit, mango or golden berries, then drizzle the combo with a smooth peanut butter. You may want to melt the peanut butter a little bit to make it easier to pour. Many love that this combo tastes like a PB & J – just without the jam!
5.) Craft Your Own Homemade Jam
Speaking of jellies and jams, you can make your own with strawberries! If your strawberries have passed their peak of freshness, consider making homemade jam or a fresh berry compote. You can use the jam on breakfast sandwiches and the compote on whole grain pancakes or waffles. And by using your strawberries instead of tossing them, you can help reduce food waste, too!
6.) Add Strawberries to Chia Seed Pudding
Strawberries add a crisp addition chia pudding, which takes on a tapioca-like consistency when served alone. Wondering how to make chia pudding? It's simple! Combine 3 tablespoons of chia seeds with 1 cup of liquid, like unsweetened almond or oat milk. After letting the chia/liquid combination sit at least 30 minutes or overnight, add in diced strawberries.
7.) Upgrade Pancakes, Waffles, and Muffins with Strawberries
Making a big batch of whole grain pancakes, waffles, or muffins on the weekend can make weekday breakfasts a breeze! Simply fold in chopped strawberries to your batter, cook per recipe instructions, and refrigerate and reheat the prepared item throughout the week.
8.) Make Breakfast Waffle Kabobs with Strawberries
First, cut prepared whole grain waffles into bite-sized pieces. Then, add those waffle pieces to a kabob alongside halved strawberries and sliced bananas. You can sprinkle the kabobs with cinnamon and drizzle with almond butter for an extra nutrition boost, if desired.

Love these ideas? Which one will you try first? What are your favorite ways to eat strawberries at breakfast? Share all your strawberry stories with us on Facebook!
Did you know? Strawberries are a heart-healthy fruit! Here are more ideas to help you eat heart healthy for every meal of the day!