All Posts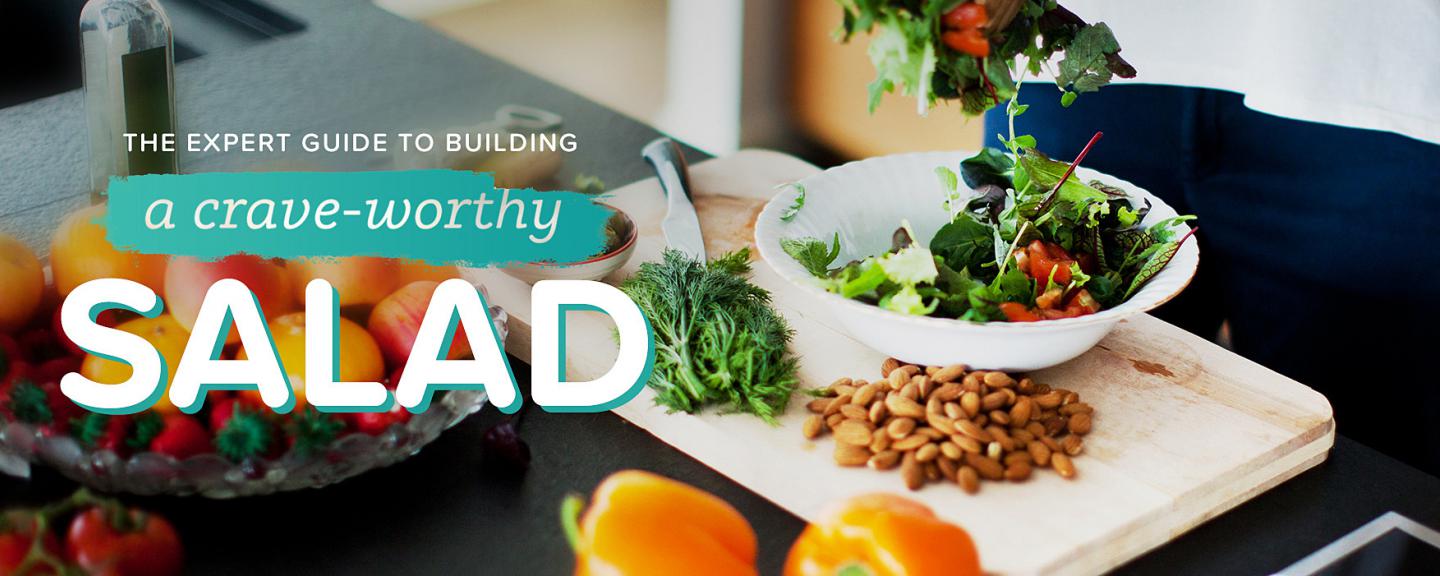 The Expert Guide to Building A Crave-Worthy Salad
Want to get more nutrients and improve the quality of your diet? It's simple: eat more salad!
According to a recent study published in the Journal of the Academy of Nutrition and Dietetics, adults who ate salad on a given day received better nutrition compared to those who didn't! In fact, those who ate salad ate more fiber, more healthy fats, and more vitamins and minerals compared to those who avoided salads.1
However, even though many adults recognize the value of vegetables, most adults aren't getting enough veggies each day.2-3
If you'd like to maximize the amount and quality of nutrition you get each day, all while keeping taste, texture, and overall appeal in mind, here's how you can build a delicious, crave-worthy salad:
Step 1: Start with your veggies.

Start your salad with a base of leafy greens. Select a classic favorite, like romaine, iceberg, spinach, or kale and pair it with a new-to-you green, like BroccoLeaf, rainbow chard, or mustard greens. Combining or varying your veggies helps you get variety in nutrition, taste and texture. You'll find that some greens are crunchy (like cabbage), some greens are softer (like green leaf lettuce), some greens are sweeter (like chard), and some greens are sharper (like mustard greens). All greens are good greens! Yes, even the iceberg lettuce that you incorrectly heard doesn't have any nutrition. The truth is, it does! Get more salad myth-busting tips here [https://www.foxy.com/blog/myth-busting-for-a-more-nutritious-salad].
Step 2: Add a protein.

Whether it's a plant-based protein or an animal-based protein, adding protein to your salads helps you feel full for longer, helps your body build and repair muscle after a workout, and helps support your immune system. Foods like fish, seafood, poultry, meat, eggs, beans, and lentils include protein, so choose the one that is most appealing to you.
Step 3: Layer on something soft.

Diced avocado, roasted sweet potato, and soft cheese like goat cheese or feta cheese crumbles: whatever soft food it is that you enjoy, add it to your salad for some textural variety. These foods can also deliver important nutrition too: avocado offers good fats, sweet potatoes supply vitamin A, and cheeses pack in extra protein.
Step 4: Complement with extra crunch.

Crunchy veggies, nuts, seeds, and certain whole-grain foods added to your salad can deliver a crave-worthy bite. Consider adding vegetables like red onion, cucumber, yellow pepper, or broccoli, nuts and seeds like almonds, pecans, sunflower seeds, or pumpkin seeds, or whole-grain foods like crumbled whole-grain crackers for extra crunch and helpful nutrition.
Step 5: Include something sweet.

Sweet fruits or vegetables like strawberries, apples, tomatoes, and sweet corn can add an extra pop of flavor into your salads. Thanks to a wide variety of veggies and fruits, options here are endless!
Step 6: Add on a zippy dressing.

Whether it's a fresh squeeze of lemon or lime juice, a sprinkling of your favorite vinegar, a drizzle of your favorite dressing, or a dollop of store-bought hummus, your zippy liquid ingredient will help marry all the flavors of the salad together.
Combine all the steps above to create one delicious salad. Here are a couple of ideas for salad combinations to get you started. Keep the ingredients on hand for quick "salad kit"-like combinations throughout the week. There is no strict recipe, so add the amount you prefer for a winning salad combination.
| | | | |
| --- | --- | --- | --- |
| | Simple Salmon & Strawberry Salad | Chickpea Cobb Salad | Apple Pecan Salad |
| Start with your veggies | Spinach and Red Leaf Lettuce | Romaine Lettuce and Cabbage | Kale and Red Chard |
| Add your protein | Baked Salmon | Chickpeas, hardboiled eggs | Roasted chicken |
| Layer on something soft | Feta cheese | Diced avocado | Roasted sweet potato |
| Complement with extra crunch | Slivered almonds, sliced red onions | Shredded carrots, sliced cucumbers | Whole pecans |
| Include something sweet | Strawberries | Cherry tomatoes | Honeycrisp apples, dried cranberries |
| Add on a zippy drizzle | Strawberry vinaigrette | Red wine vinaigrette | Poppyseed dressing |
What ingredients or food combinations do you crave on a salad? Which one of these tips will you take into your kitchen? We'd love to be part of your healthy eating journey, so upload a photo of your next salad to Facebook and tag us @FoxyProduce and @YESNutritionLLC. Enjoy!
References:
Hoy, Katherine et al. (In Press) Consuming vegetable-based salad is associated with higher nutrient intakes and diet quality among US adults, What We Eat in America, National Health and Nutrition Examination Survey 2011-2014. J Acad Nutr Diet. https://doi.org/10.1016/j.jand...
Bisogni CA, Jastran M, Seligson M, Thompson A. How people interpret healthy eating: Contributions of qualitative research. J Nutr Educ Behav. 2012;44:282-301.
Dietary Guidelines Advisory Committee. Scientific Report of the 2015 Dietary Guidelines. Advisory Committee: Advisory Report to the Secretary of Health and Human Services and the Secretary of Agriculture. Washington, DC: US Department of Agriculture, Agricultural Research Service; 2015.