All Posts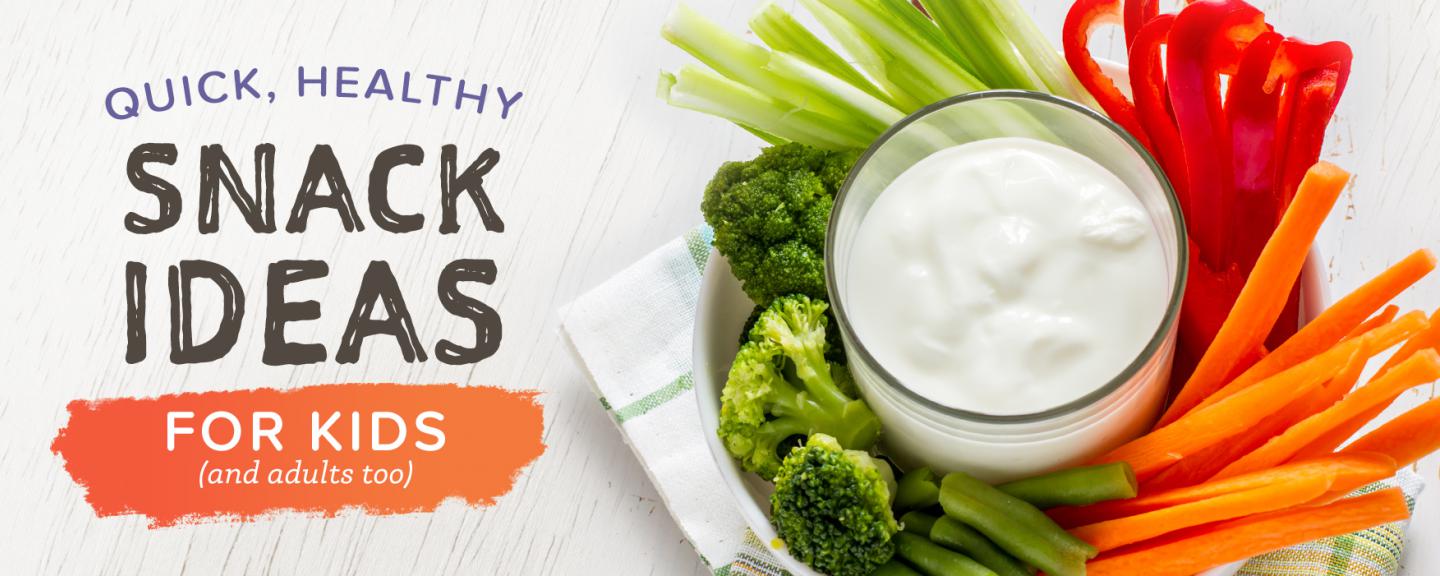 Quick Healthy Snack Ideas for Kids (and Adults, Too!)
In the United States, sugar-sweetened beverages, desserts and sweets, and salty snacks are among the most popular snacks eaten by adults and children. These food choices, along with others eaten as snacks, deliver approximately 25% of a person's daily energy intake, which is a considerable amount of energy to one's eating pattern. (1-3)
Despite the significant contribution of snacking to one's diet, only 1 in 10 adults meet the recommendations for fruit and vegetable intake each day. (4) Most U.S. children do not meet national recommendations for fruit and vegetable consumption, either. (4) This is a concern since nutrients including fiber, potassium and iron – found in dark green leafy vegetables and some fruits – remain nutrients of public health concern. (5)
Adding more vegetables and fruits to snacks is a smart way for people of all ages to get improved nutrition. Eating between meals, when hungry, can help boost energy. And, if selecting produce, both adults and children add more nutrients to their day.
So, as children head back to school and as adults look for healthy snack ideas, here are some quick tips for making snack time more nutritious.
#1 Create a snacking station at home.
Your home environment plays a crucial role in influencing the food habits of your young ones (and you too!). Having a designated place where nutritious foods are available and ready to eat may improve the selection of those items.
Create a snacking station in your refrigerator to feature fresh cut vegetables like broccoli, cauliflower, and celery and fresh fruit like strawberries. Place them at a visible, easy-to-reach level. When nutritious food like vegetables and fruits are available, accessible and prepared, children are likely to eat more! (6)
You can create a snacking station in other places, too. To your desk drawer or office break room, store foods like single-serving packs of nuts, popcorn, and fruit & nut bars. That way, you will always have something nutritious on hand if hunger strikes.
#2 Pair produce with some protein and healthy fats.
Along with fiber, found in vegetables and fruits, protein and healthy fat help boost energy and satisfaction at snacks. Pair produce with protein and healthy fats, like from nut butter, nuts, seeds, or hummus so that you feel fuller for longer. Will you grab an apple? Add on some almond butter. Do you eat celery and carrots? Dunk them in hummus.
#3 Upgrade your traditional snack choice, easily!
Complementing your traditional snack choice with a nutrient-rich addition can be a great way to still enjoy the item you crave while adding something nourishing for you. For instance, if you love popcorn, sprinkle on some freeze-dried strawberries and pumpkin seeds for an extra nutrient boost. If you can't go without pretzels, consider making them whole-grain pretzels and eat them alongside crunchy veggies dipped into guacamole. Or maybe it's something sweet and cold you crave, like strawberry ice cream. Consider topping your treat with sliced fresh strawberries, or possibly swapping the ice cream for a frozen banana and strawberry blend when you can.
#4 Create enticing, portable snack packs for when you're on the go.
Fresh fruit like strawberries and cut vegetables like broccoli, cauliflower, and celery are excellent items to grab-and-go. And, when they're already cut and portioned into single-serve reusable containers, I think they're just as easy to grab as other packaged snack foods! Select one day a week to wash and chop your produce and portion them into grab-and-go containers, so that you always have a healthy produce item at the ready. Consider these nutritious, portable snack pack ideas:
Peanut Butter and Celery: Add two tablespoons of peanut butter to the bottom of a glass jar. Stack fresh celery sticks overtop. When ready to eat, dunk the celery into the peanut butter. For a nut-free option, use sunflower seed butter.
Hummus with Veggies: Add ¼ to ½ cup of hummus to the bottom of a glass jar. Add chopped broccoli and cauliflower overtop. When ready to eat, pour out the vegetables, pierce each veggie with a fork and dunk into the hummus.
Fruit & Cheese Pack: To a shallow, rectangular glass container, add 1 cup of strawberries and 1 ounce of cheddar cheese cubes. Depending on your usual hunger and fullness at snacks, you could also add your choice of nuts.
Broccoli Cheddar Quinoa Bites: Make these nutritious Broccoli Cheddar Quinoa Bites on the weekend and portion a serving of your choice into separate containers for a savory snack.
Rainbow Jar: Add ¼ cup of guacamole to the bottom of a glass jar. Stack sticks of red pepper, carrots, yellow pepper and celery sticks for a colorful snack creation. When ready to eat, dunk each veggie into the guac. For more protein at this snack, swirl hemp seeds into the guacamole.
Kale Chips & Popcorn: In a reusable snack bag, add prepared kale chips with popcorn and sprinkle with your favorite seasonings, like garlic powder, chili powder or cayenne pepper. Enjoy when you want a spicy snack. To prep the kale chips, spread washed and dried kale leaves onto a baking sheet in a single layer, drizzle with olive oil and bake for 25 minutes at 225°F, rotating halfway through.
Salad In A Jar: Enjoy salad greens at snacks by meal prepping multiple salads in a jar. When making salads for snacking, use a pint-sized jar. Learn other details for how to meal prep salad in a jar for meals and snacks here:
Smoothie Packs: Meal prepping smoothie packs can make preparing a smoothie-on-the-go a breeze! To make smoothie packs, combine your favorite whole smoothie ingredients to a freezer bag, remove air, and seal tightly. When ready to blend, add the frozen smoothie pack ingredients plus all liquid ingredients to the blender and give it a whirl. Remember to add leafy greens like spinach and kale to your smoothie packs – they'll deliver some fiber plus potassium, vitamin A, vitamin K and folate!
What are your favorite, nutritious snacks? Share them with us on Facebook @FoxyProduce and @YESNutritionLLC
References:
Piernas C, Popkin BM. Snacking increased among U.S. adults between 1977 and 2006. J Nutr. 2010;140(2):325–332. doi:10.3945/jn.109.112763
Hess JM, Jonnalagadda SS, Slavin JL. What Is a Snack, Why Do We Snack, and How Can We Choose Better Snacks? A Review of the Definitions of Snacking, Motivations to Snack, Contributions to Dietary Intake, and Recommendations for Improvement [published correction appears in Adv Nutr. 2017 Mar 15;8(2):398]. Adv Nutr. 2016;7(3):466–475. Published 2016 May 16. doi:10.3945/an.115.009571
Shriver LH, Marriage BJ, Bloch TD, Spees CK, Ramsay SA, Watowicz RP, Taylor CA. Contribution of snacks to dietary intakes of young children in the United States. Matern Child Nutr. 2018 Jan;14(1). Doi: 10.1111/mcn.12454.
Centers for Disease Control and Prevention. 2018 State Indicator Report on Fruits and Vegetables. 2018 June. Accessed from https://www.cdc.gov/nutrition/downloads/fruits-vegetables/2018/2018-fruit-vegetable-report-508.pdf
U.S. Department of Health and Human Services and U.S. Department of Agriculture. 2015-2020 Dietary Guidelines for Americans. 8th Edition. December 2015. Available at http://health.gov/dietaryguidelines/2015/guidelines
Vaughn AE, Ward DS, Fisher JO, et al. Fundamental constructs in food parenting practices: a content map to guide future research. Nutr Rev. 2016;74(2):98–117. doi:10.1093/nutrit/nuv061