All Posts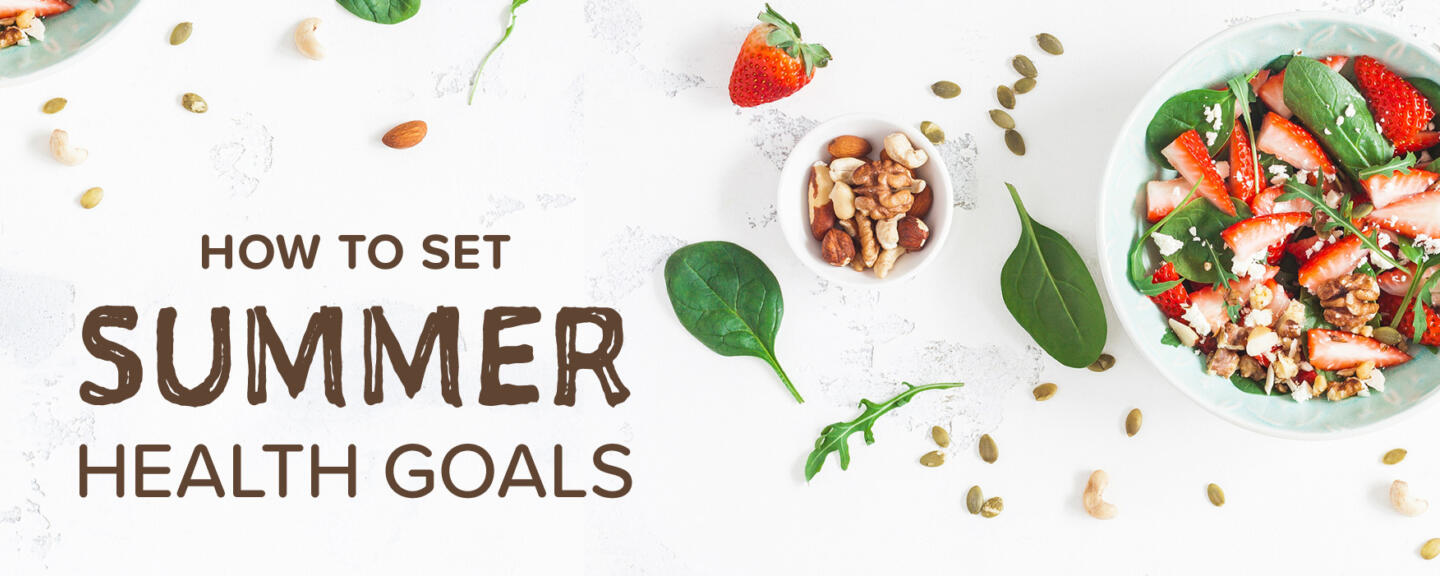 How To Set Summer Health Goals + 5 Nutritious Summer Strategies
Written by: Tori Schmitt, MS, RDN, LD

You know that feeling when you cross the finish line, when you check off a big item on your to do list, or when you finally hit that
milestone you've dreamed of? That satisfaction started when you began with a goal in mind – and this summer, we're challenging you to feel that more often by setting at least one new summer health goal!
A healthy goal for summer should be:
S: Specific! Set a clear objective for what you want to accomplish.
U: Unique to yourself! When it comes to nutrition and health, you are unique. You likely don't need nor prefer the same foods as your neighbor or friend. As such, your nutrition and health goals should be unique to you.
M: Measurable! The goals to "eat better" or "exercise more" can be quite vague. Make your goal more measurable, like, "try one new recipe with vegetables each week" or "walk for 30 minutes every weekday."
M: Motivating! Your goal itself can inspire you to do more, beyond your initial activation. When you say your goal aloud, do you get excited? You should! Who knows, completing your goals might even motivate someone else to complete their goals too!
E: Energizing! The process of achieving your goal should bring you energy and satisfaction. As I like to say, if it's not fun, you won't get it done!
R: Realistic! You may not be able to complete an ultra-marathon by the end of summer, and that's okay! Or maybe that's exactly what you want to do. As long as your goal is realistic – for you – your chances of completing the goal are better! Remember, it's okay to start small and work your way up!
Here are some summertime nutrition goal ideas to get you started!
Goal #1 Enjoy fruit every morning at breakfast
Fruit, like strawberries, are full of important vitamins and phytonutrients that keep your body well. Plus, they provide carbohydrates that help get your morning kicked off with an energizing start. I like pairing fruit with some protein – like alongside eggs, on top of Greek yogurt, or sprinkled over oatmeal with hemp seeds. Check out some of my favorite ways to use strawberries here:

Goal #2 Eat vegetables every night at dinner
From enjoying vegetables fresh to eating them warm off the grill, veggies serve as a nutritious foundation for dinner. I especially like adding asparagus, romaine hearts, broccoli and cauliflower to the grill. I find that grilling vegetables brings out a unique smoky-sweet flavor. Here are some veggie-friendly recipes for busy weeknights.
Goal #3 Pack a delicious salad for lunch 3 days a week
Salads can combine your favorite vegetables and fruits in a unique blend of flavor and texture. Here's how you can build a better salad this summer.

Goal #4 Try one new healthy recipe each week
Have you been eyeing some of the recipes on the Foxy page? Me too! I'm so looking forward to trying the new Salad Pita Pizza and the Ponzu Glazed Baby Bok Choy. There are so many nutritious, delicious recipes over of the Foxy recipe page. Check them out!
Goal #5 Pack nutritious snacks when taking road trips or for days at the beach/pool
Tote along homemade trail mix, chilled sliced vegetables and fresh fruit on your days away from home. You'll be glad you had something nutritious on hand for when hunger hits! I always like bringing along a reusable water bottle while away from home too to me stay hydrated when I'm out.
What new goal will you set this summer? Write down your goal, snap a photo of it, then tag us on Instagram @ToriSchmittRDN and @FoxyProduce. We'd love to hear what intentions you have and what you'll accomplish! Have a happy and healthy summer!