All Recipes
Strawberry Rhubarb Pie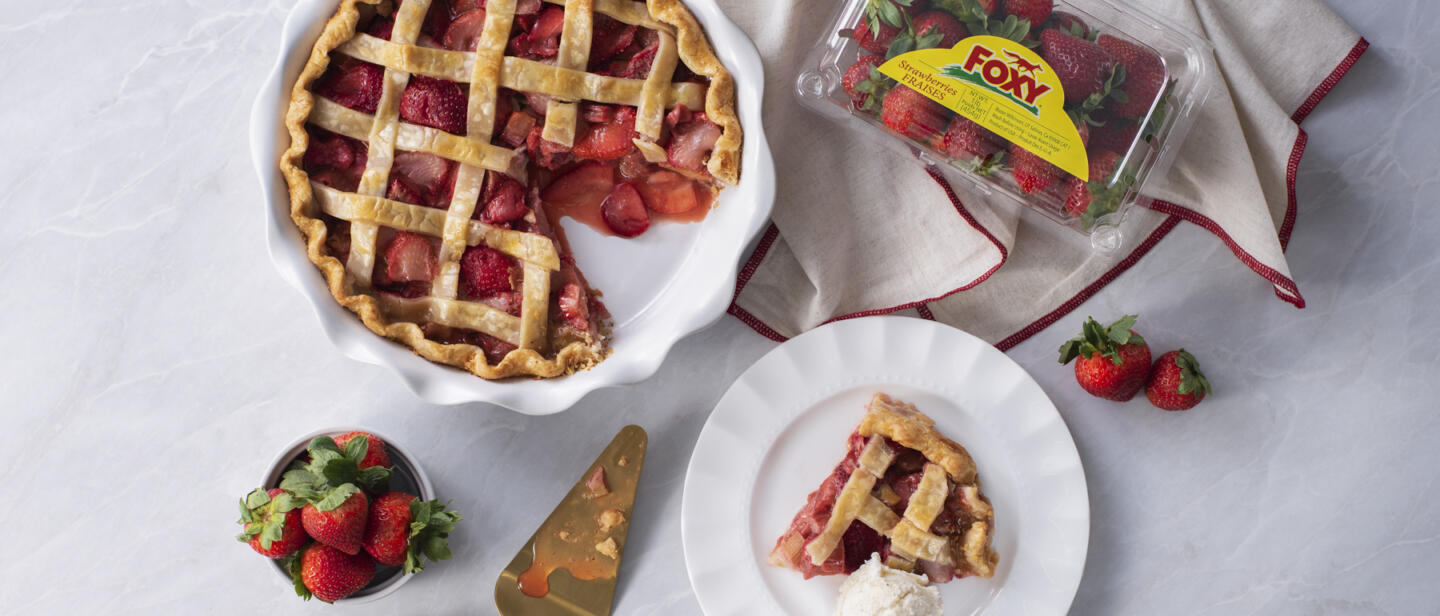 Ingredients
Pie Crust:
2 1/2 cups all-purpose flour
1/2 tsp salt
1 cup cold unsalted butter, cut into cubes
Filling:
1 lb Foxy strawberries, hulled and sliced
2 1/2 cups chopped rhubarb
3/4 cup brown sugar
1/4 cup granulated sugar
2 tbsp cornstarch
1 tsp lemon zest
1/4 tsp ground nutmeg
Pinch ground cinnamon
1 egg
Preparation
Pie Crust:
Whisk flour with salt until combined. Cut in butter with pastry blender or fingertips until mixture resembles coarse meal. Using fork, stir in 1/3 cup cold water until dough comes together. Divide dough into 2 disks; wrap with plastic wrap. Refrigerate for at least 1 hour or up to 2 days.
Filling:
Preheat oven to 425°F. Set rack in lowest third of oven. Toss together strawberries, rhubarb, brown sugar, granulated sugar, cornstarch, lemon zest, nutmeg and cinnamon; set aside. Lightly beat egg with 2 tsp water; set aside.
---
On lightly floured surface, roll out one disk into 12-inch round, about 1/4-inch thick. Fit pastry into 9-inch pie pan, pressing up side of pan.

Scrape filling into pie shell; smooth top and refrigerate while rolling out remaining pastry. Roll remaining disk into 12-inch round; refrigerate for 10 minutes on parchment paper-lined tray. Brush egg wash lightly over edge of pie. Using knife or pizza cutter, cut dough into 1/2-inch wide strips. Arrange half of the strips over the filled pie in parallel lines. Fold up every other strip to the midline of pie. Lay another strip of pie dough, perpendicular to other strips at the midline of pie, then fold down vertical strips over top. Repeat folding every other strip back to perpendicular strip, then lay down another perpendicular strip; fold down vertical strips over top. Repeat with remaining strips, trimming pastry to fit.
Brush top of pastry with remaining egg wash. Using fingers, press top and bottom pastry together to seal; crimp edge with thumb and forefinger. Bake for 30 minutes; reduce temperature to 350°F. Bake for 15 to 20 minutes or until crust is golden brown and juices are bubbling. Transfer to rack; let cool completely.
Tip: Serve with a scoop of vanilla ice cream or dollop of whipped cream.