All Recipes
Cauliflower Mac n' Cheese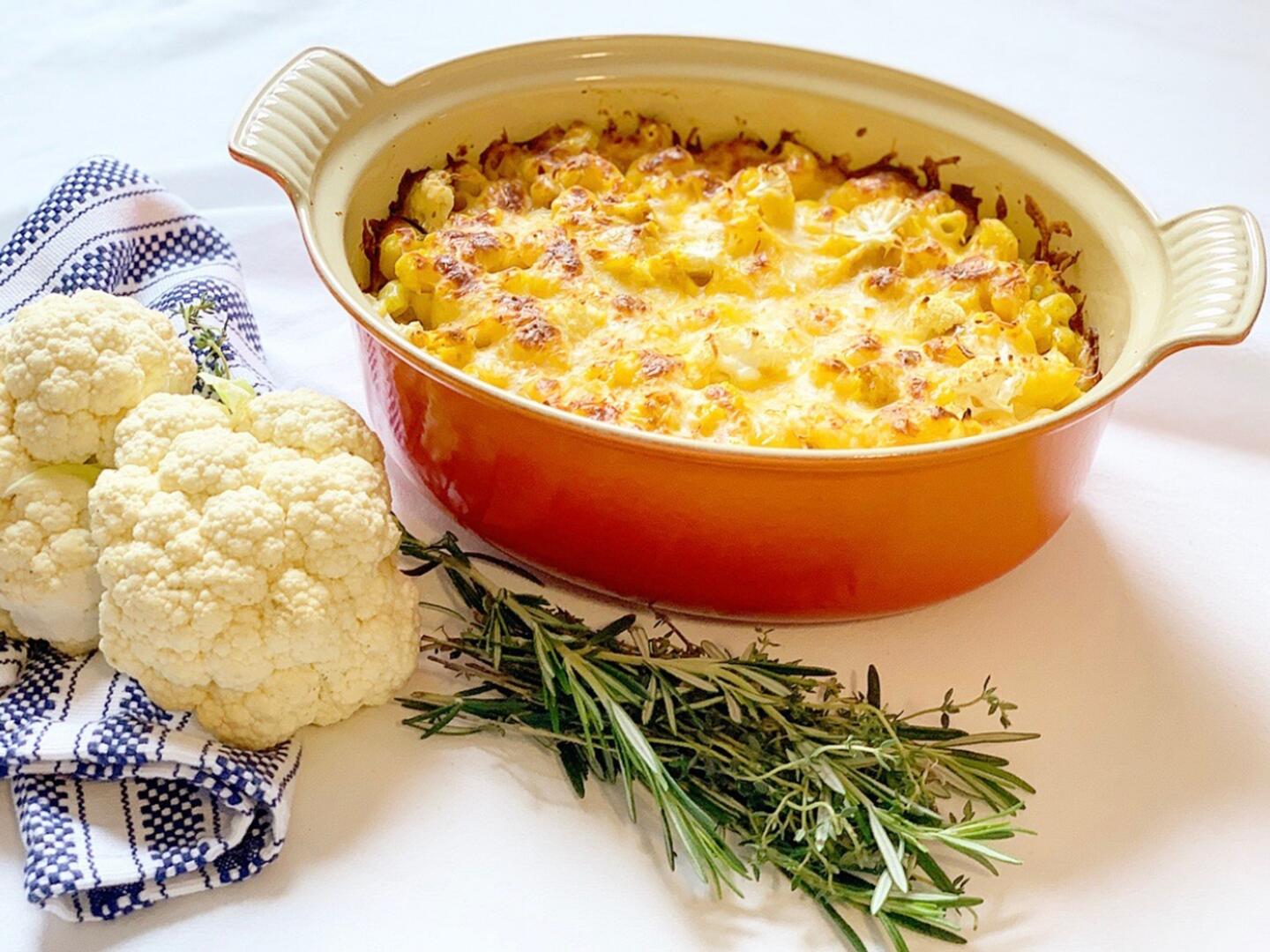 Ingredients
1 head Foxy cauliflower, cut into small florets
1 tablespoon olive oil
1 teaspoon salt, divided
½ teaspoon black pepper
1 teaspoon turmeric
2 tablespoon butter
1/4 cup flour
1 ½ cup 2% milk
½ teaspoon thyme, finely chopped*optional
½ teaspoon rosemary, finely chopped*optional
1 ¼ up shredded cheddar cheese, divided
1 ¼ cup fontina cheese, divided
8 ounces (about ½ a box) of dry elbow pasta noodles
Preparation
Preheat the oven to 400 degrees. Line a baking sheet with parchment paper. Add cauliflower florets to a large bowl. Drizzle with olive oil and season with ¼ teaspoon salt, pepper and turmeric. Toss until combined and spread evenly on a baking sheet. Roast cauliflower in the oven for 30 minutes.
While cauliflower is baking, bring 4 quarts of water to a rolling boil in a large soup pot. Add a dash of salt and the elbow noodles to the water. Boil, uncovered for 7 minutes or until pasta is al dente. Note: follow the instructions on the box of your pasta and cook for two less minutes. Turn off heat, drain the noodles. Once drained, add them back to the pot and set aside.
In a small saucepan, heat butter over medium heat. Once the butter is melted, add flour and whisk until the mixture thickens. Add milk and continue to whisk. Season with ½ teaspoon salt, thyme and rosemary. Mix about 1 cup of each cheese to the pot, reserving the other ¼ cup of each cheese. Turn heat to low.
Add the roasted cauliflower to the pot with the cooked noodles and return heat to medium. Add the cheese sauce and stir until evenly combined.
Transfer the noodle mixture into an 8x8 inch baking glass or ceramic sheet. Sprinkle the remaining cheese evenly over the top.
Bake for 15-20 minutes until cheese is bubbling and slightly golden brown. For an even crispier cheese topping, broil for 1-2 minutes (keep an eye on it while broiling to make sure it doesn't burn. Enjoy!