All Recipes
Rice-less Veggie Paella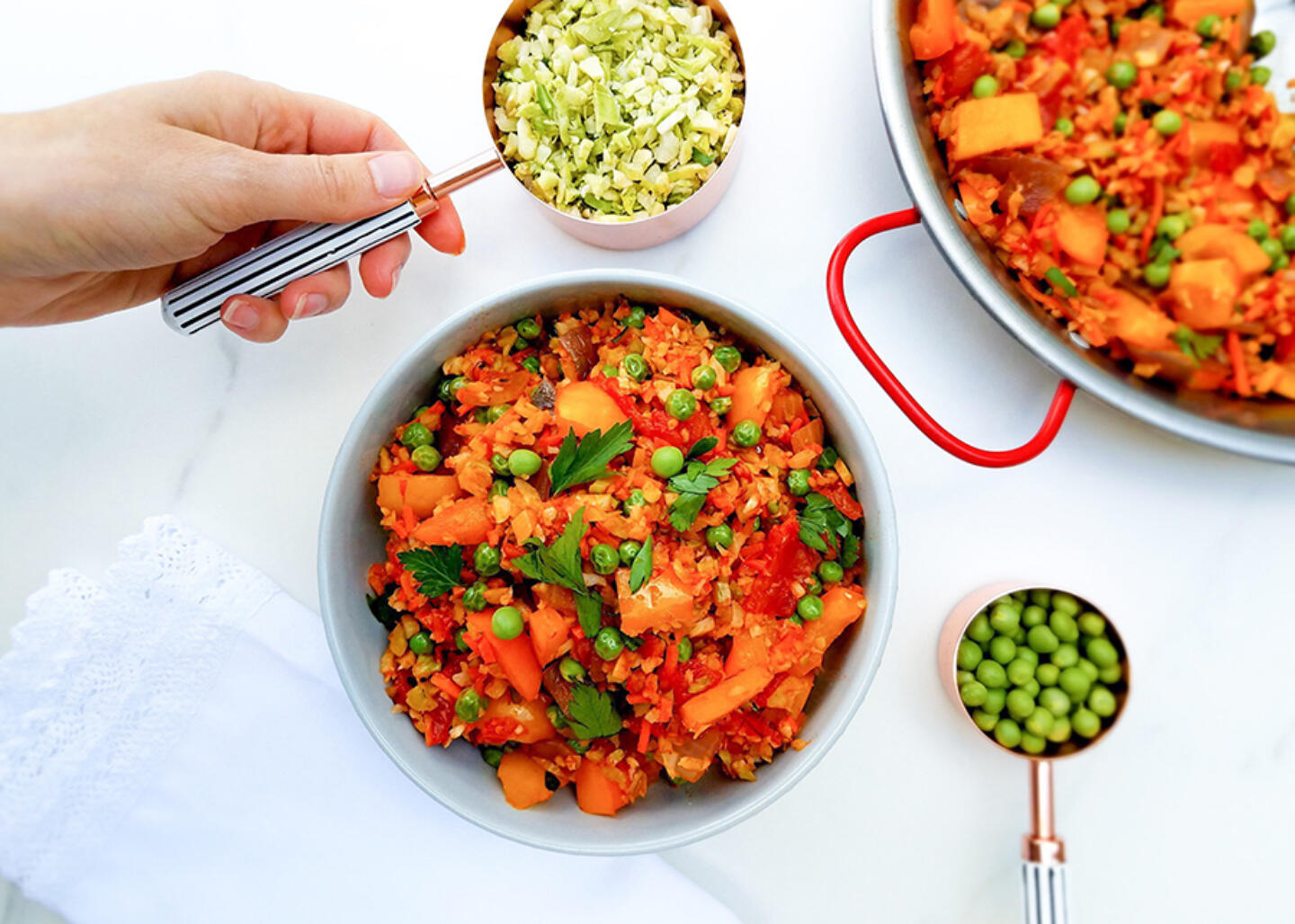 Ingredients
1 bunch Foxy broccoli
1/2 Foxy cauliflower head
2 carrots
2 tablespoons olive oil
1/2 red onion, diced
3 garlic cloves, minced
A pinch of saffron
½ teaspoon smoked paprika
½ teaspoon cayenne pepper
Salt to taste
½ red pepper, diced
½ yellow or orange pepper, diced
3/4 cup peas
1 (14.5 ounce) can diced tomatoes
1/2 cup parsley
4 lemon wedge
Preparation
To Rice the Vegetables:
Cut the broccoli stems as close to florets as possible. Reserve the florets for another recipe. Peel the outer layer of the broccoli stem and cut into small, 1 inch chunks. Add chunks to food processor and pulse (about 15-20 pulses) in small, one second spurts, until the broccoli has a similar consistency to rice. Be sure not to over pulse or else it will turn mushy. Transfer to a large bowl and set aside.
Cut the cauliflower into small florets. In batches (depending on the size of your food processor), pulse the florets in similar fashion to step one. Removed from the food processor add to the bowl with the broccoli rice.
Cut the carrots into 1 inch pieces and pulse until the carrots resemble grains of rice. Add to the bowl with the other riced vegetables. If you don't have a food processor, use the largest holes on a box grater to create the riced vegetables.
To Cook:
In a large skillet or paella pan, heat oil over medium heat. Add onions and garlic and cook for 2-3 minutes. Add saffron, cayenne pepper and smoked paprika. Season with salt.
Add peppers and cook until soft, about 3 minutes.
Add riced vegetables and peas. Mix until the "rice" and veggies are evenly combined. Add the diced tomatoes and cook for another 7-8 minutes while stirring frequently.
Serve with a lemon wedge and garnish with parsley.
Enjoy!