All Recipes
Veggie Poke Bowl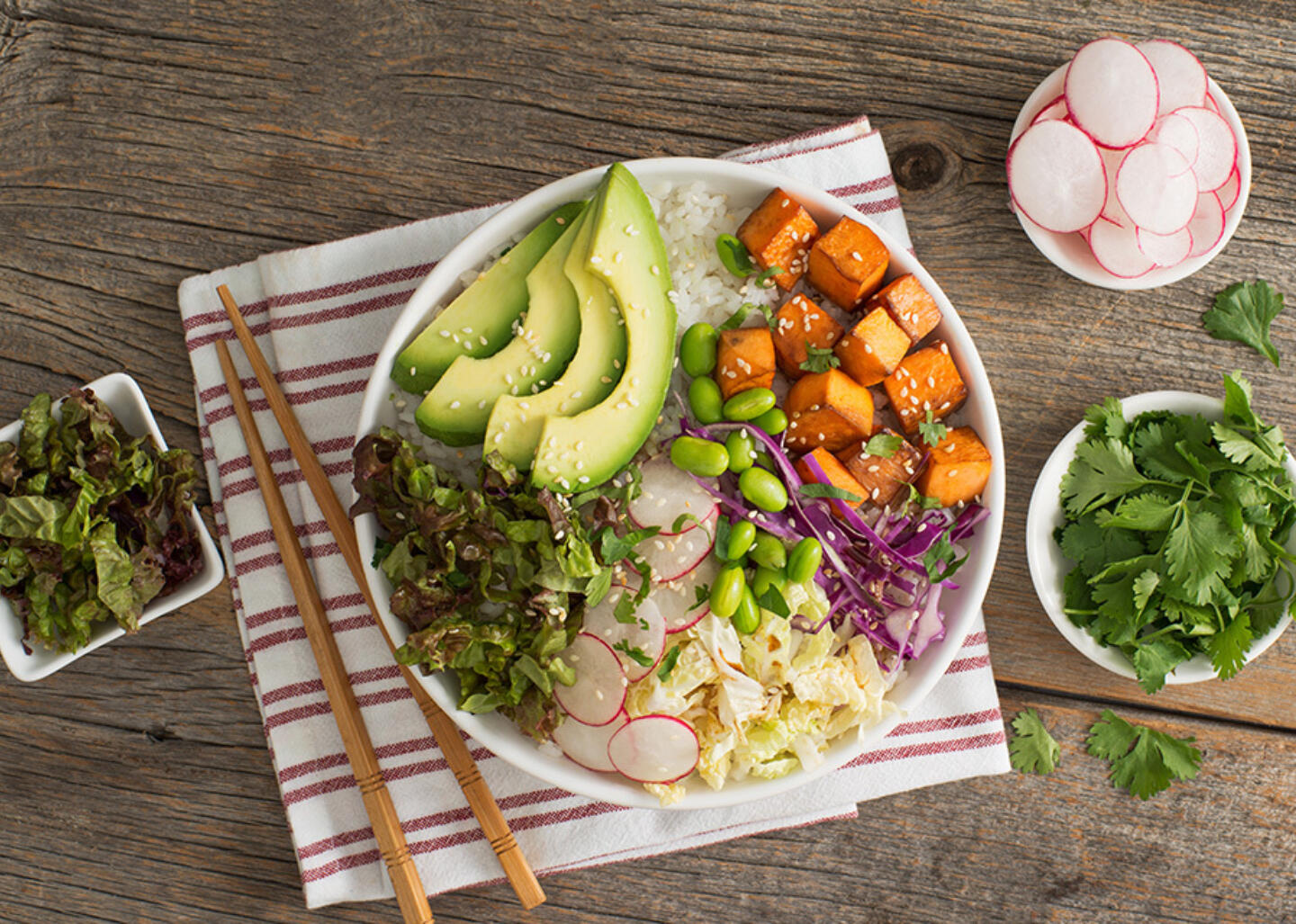 Ingredients
Roasted Sweet Potatoes
1 lb sweet potatoes, cut into 1/2-inch pieces
1 tsp canola oil
1 tsp soy sauce
1 tsp sesame oil
1 tsp honey
Pinch each salt and pepper
Poke Bowl
1/4 cup soy sauce
1/4 cup rice wine vinegar
1/4 cup minced pickled ginger
2 tbsp brown sugar
1 tbsp sesame oil
3 cups cooked sushi rice
2 cups cooked shelled edamame
2 cups loosely packed shredded Foxy Organic Red Leaf Lettuce
2 cups thinly sliced Foxy Organic Red Cabbage
2 cups thinly sliced Napa Cabbage
1 ripe avocado, halved, pitted, peeled and sliced
4 radishes, thinly sliced
2 tbsp finely chopped Foxy Organic Cilantro
1 tbsp toasted sesame seeds
Preparation
1. Roasted Sweet Potatoes: Preheat oven to 400˚F. Toss together sweet potatoes, canola oil, soy sauce, sesame oil, honey, salt and pepper. Arrange in single layer on parchment paper–lined baking sheet; bake for 18 to 20 minutes or until tender.
2. Poke Bowl: Whisk together soy sauce, vinegar, pickled ginger, brown sugar and sesame oil; set aside.
3. Divide rice among 4 bowls. Top with sweet potatoes, edamame, lettuce, red cabbage, Napa cabbage, avocado and radishes. Drizzle with soy sauce mixture. Garnish with cilantro and sesame seeds.
Tips:
• Substitute jasmine, basmati or long-grain rice for sushi rice if desired.
• Pack this bowl cold for lunch, keeping dressing separate; drizzle over top just before serving.