All Recipes
Chicken Romanesco Cauliflower Crust Pizza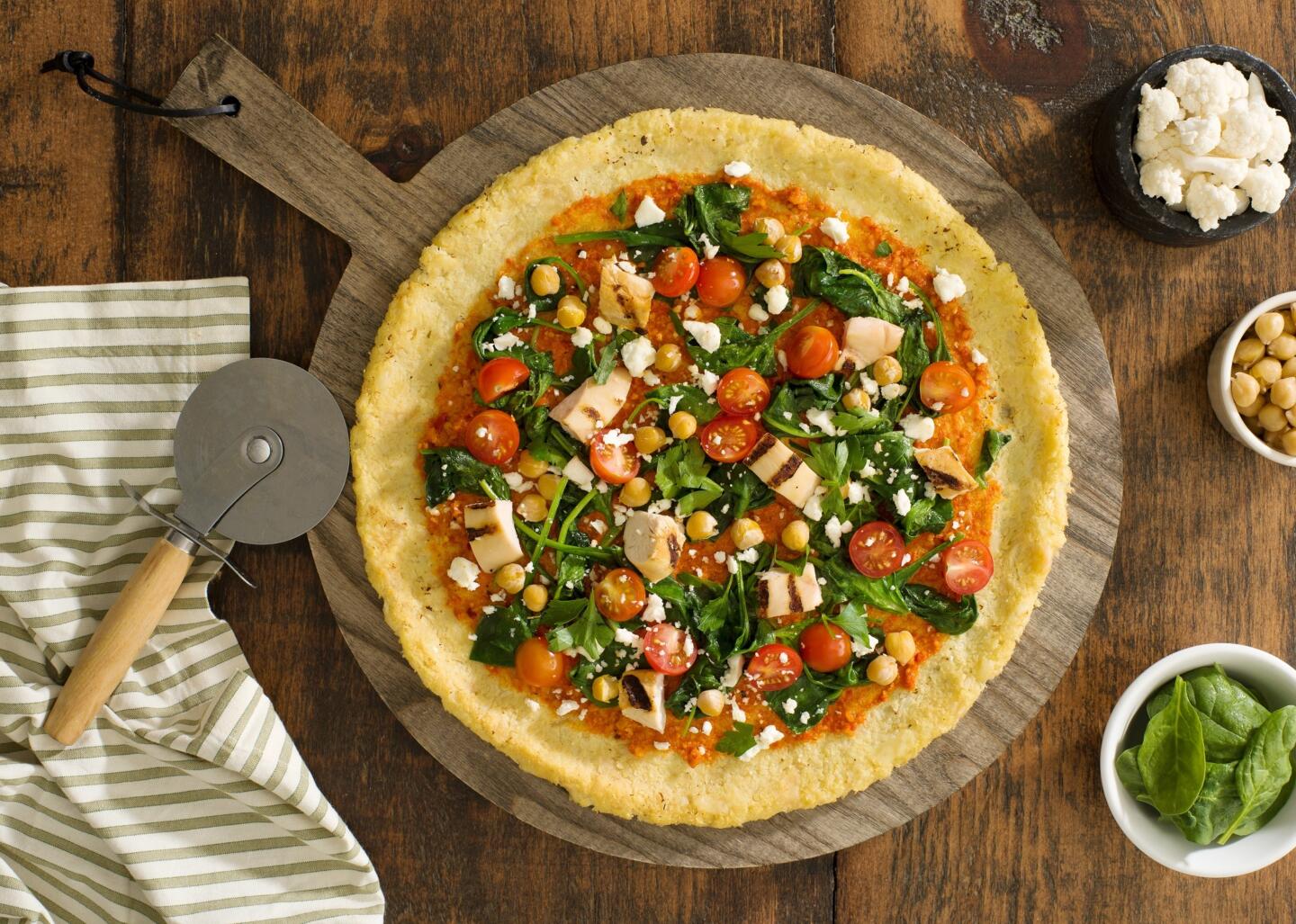 Ingredients
Cauliflower Crust:
1 head Foxy Organic or Foxy conventional cauliflower, cut in florets
1/4 cup shredded Parmesan cheese
1/4 cup shredded mozzarella cheese
1 egg, beaten
1/2 tsp salt
Romanesco Sauce:
1 jarred roasted red pepper, drained
2 tbsp blanched almonds, toasted
1 tbsp red wine vinegar
1 clove garlic
1/2 tsp smoked paprika
1/4 tsp salt
Pinch red pepper flakes
1/4 cup olive oil
Toppings:
2 cups Foxy Organic Spinach, wilted
1 grilled chicken breast, chopped
1/2 cup halved cherry tomatoes
1/3 cup drained canned chickpeas
1/3 cup crumbled feta cheese
1/4 cup Foxy Organic Italian Parsley leaves
Preparation
Romanesco Sauce: Place roasted red pepper, almonds, vinegar, garlic, smoked paprika, salt and red pepper flakes in a food processor. Pulse until very finely chopped and well combined. With motor running, slowly pour in oil until smooth. (Romanesco sauce can be stored, tightly covered, in the refrigerator for up to 1 week.)
Cauliflower Crust: Preheat oven to 450°F. Place cauliflower in food processor. Pulse until it resembles rice. Place in microwave-safe bowl and cover with plastic wrap. Microwave for 4 to 5 minutes or until very tender. When cool enough to handle, transfer to clean kitchen towel and squeeze tightly to release as much water as possible; return to bowl. Stir in Parmesan, mozzarella, egg and salt until well combined. Transfer to a parchment paper-lined 12-inch round pizza pan. Spread to an even thickness over bottom of pan. Bake for 12 to 15 minutes or until golden brown. Remove from oven and cool slightly.
Toppings: Spread romanesco sauce over pizza crust, leaving a 1/2-inch border bare. Top with spinach, chicken, tomatoes, chickpeas and feta. Bake for 12 to 15 minutes or until heated through and feta is browned. Sprinkle with parsley before serving.
Tips:
To toast almonds, cook in dry skillet over medium-high heat, stirring occasionally, for 5 minutes or until golden brown.
To wilt spinach, bring 2 tbsp water to a boil in skillet; add spinach and pinch each salt and pepper. Cover and remove from heat; let stand for 2 minutes. Stir to evenly wilt. Drain.