All Recipes
Jerk Chicken Sandwich
in Lettuce Buns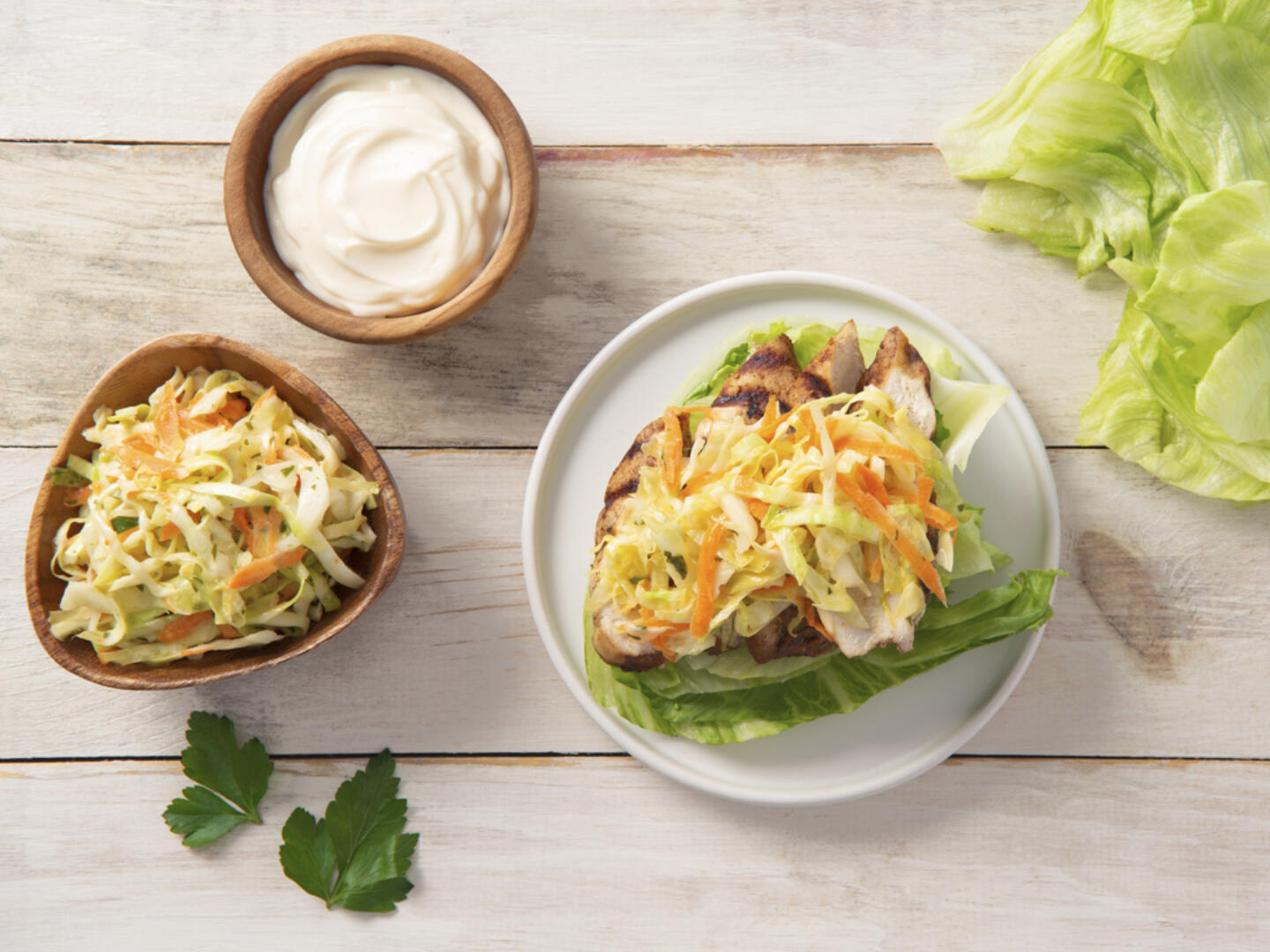 Ingredients
Jerk Chicken:
2 heads Foxy Iceberg Lettuce
1/4 cup canola oil
4 green onions, halved
2 cloves garlic
1 hot chili pepper, halved and seeded
1 tsp lime zest
1 tbsp lime juice
4 tsp tamari sauce (gluten-free soy sauce)
4 tsp fresh thyme leaves
1 tbsp chopped fresh ginger
2 tsp ground allspice
1 tsp pepper
1 tsp ground cinnamon
1 tsp brown sugar
1/2 tsp salt
4 boneless skinless chicken breasts\
Carrot & Cabbage Slaw:
3 cups shredded Foxy Organic Green Cabbage
1 carrot, grated
2 tbsp finely chopped fresh Foxy Parsley
2 tbsp canola oil
2 tbsp lime juice
1 clove garlic, minced
1 tsp honey
1 tsp Dijon mustard
1/2 tsp each salt and pepper
1/4 cup mayonnaise
Preparation
Jerk Chicken: In food processor, mix together oil, green onions, garlic, chili pepper, lime zest, lime juice, tamari, thyme, ginger, allspice, pepper, cinnamon, sugar and salt until smooth; toss with chicken. Cover and refrigerate for at least 4 hours or overnight.
Preheat grill to medium heat; grease grate well. Grill chicken for 5 to 7 minutes per side or until well marked and internal temperature reaches 165˚F. Slice chicken.
For lettuce "buns," slice off 4 large cheeks from each head of iceberg lettuce, about 1-inch thick, to make 8 lettuce "bun" halves (reserve remaining lettuce for another use).
Carrot & Cabbage Slaw: Meanwhile, toss together cabbage, carrot, parsley, oil, lime juice, garlic, honey, mustard, salt and pepper until well coated. Let stand for 5 minutes.
Sandwich chicken between 2 lettuce bun halves with 1 tbsp mayonnaise and some coleslaw. Serve remaining coleslaw on the side.
Tip: For spicy jerk chicken, use a Scotch bonnet pepper, and for milder jerk chicken, use a jalapeño pepper.