All Recipes
Kale, Apple and Ricotta Flatbread
with Cauliflower Crust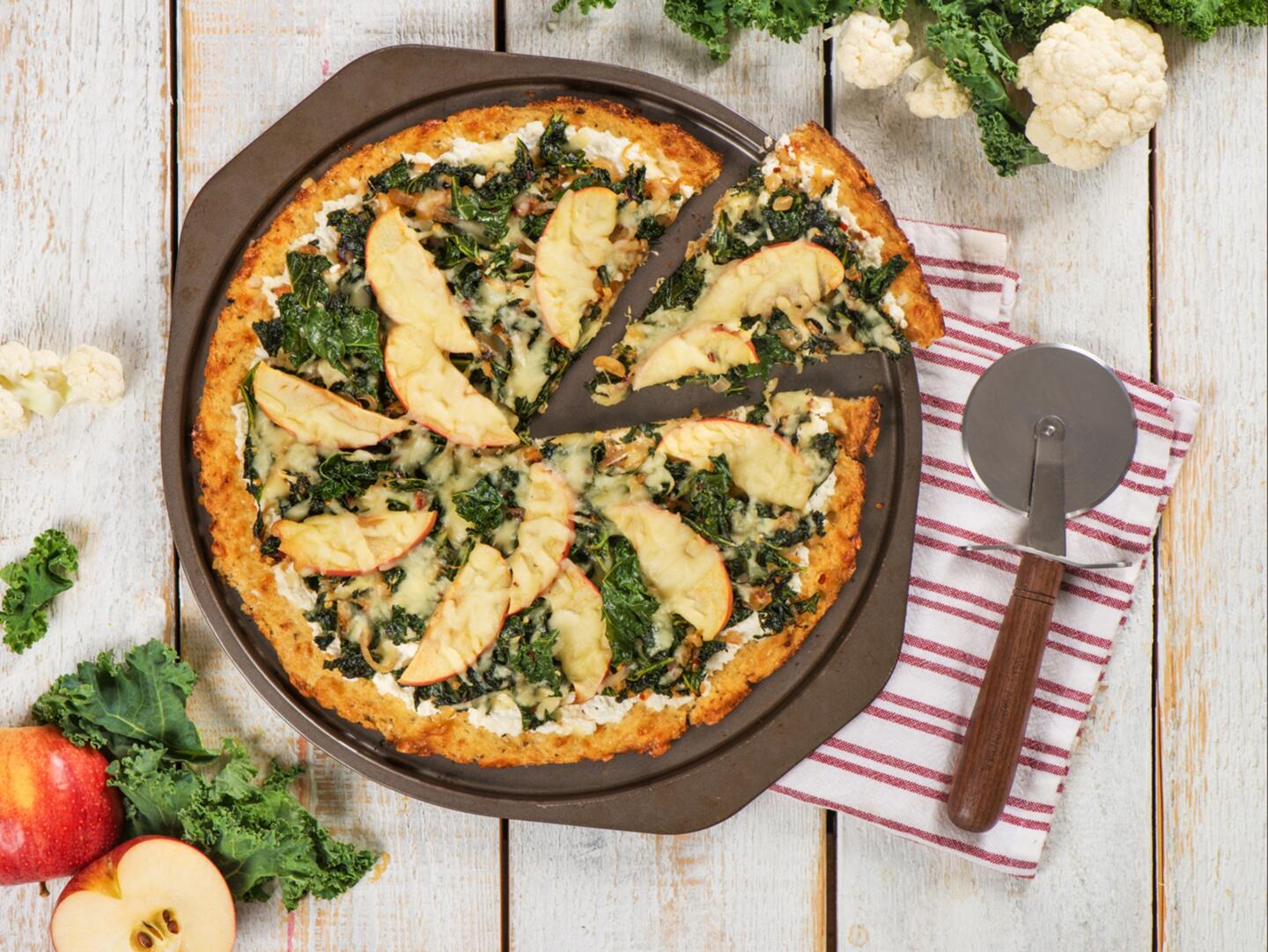 Ingredients
Cauliflower Crust:
1/2 cup shredded mozzarella cheese
1/2 cup grated Parmesan cheese
1/4 tsp each salt and pepper
1 tsp dried Italian seasoning
Topping:
1/2 cup thinly sliced shallots
1/2 bunch Foxy Green Kale, chopped
1/2 red apple, thinly sliced
1/2 cup mozzarella cheese
Preparation
1. Cauliflower Crust: Preheat oven to 400°F. Cut cauliflower into small florets and pulse in food processor until finely chopped. Steam or microwave cauliflower for about 5 minutes or until softened. Wrap in clean tea towel to drain excess water; let cool.
2. Mix together cauliflower, mozzarella, Parmesan, oregano, garlic powder, salt, pepper and egg until well combined. Press evenly into parchment paper–lined 12-inch pizza pan.
3. Whisk together olive oil, Italian seasoning and garlic; brush evenly over cauliflower crust. Bake for about 20 minutes or until golden brown around edges.
4. Topping: Meanwhile, heat olive oil in large skillet set over medium heat; cook shallots, garlic and chili flakes for 3 minutes. Add kale; cook for 1 to 2 minutes or until softened. Spread ricotta over cauliflower crust; top with kale mixture, apple slices and mozzarella. Bake for 10 to 15 minutes or until cheese is melted and crust is golden and crisp.

Tip: Try Foxy Lacinato Kale or Green Chard in place of Green Kale.