All Recipes
Salad Pita Pizza
with Crunchy Chickpeas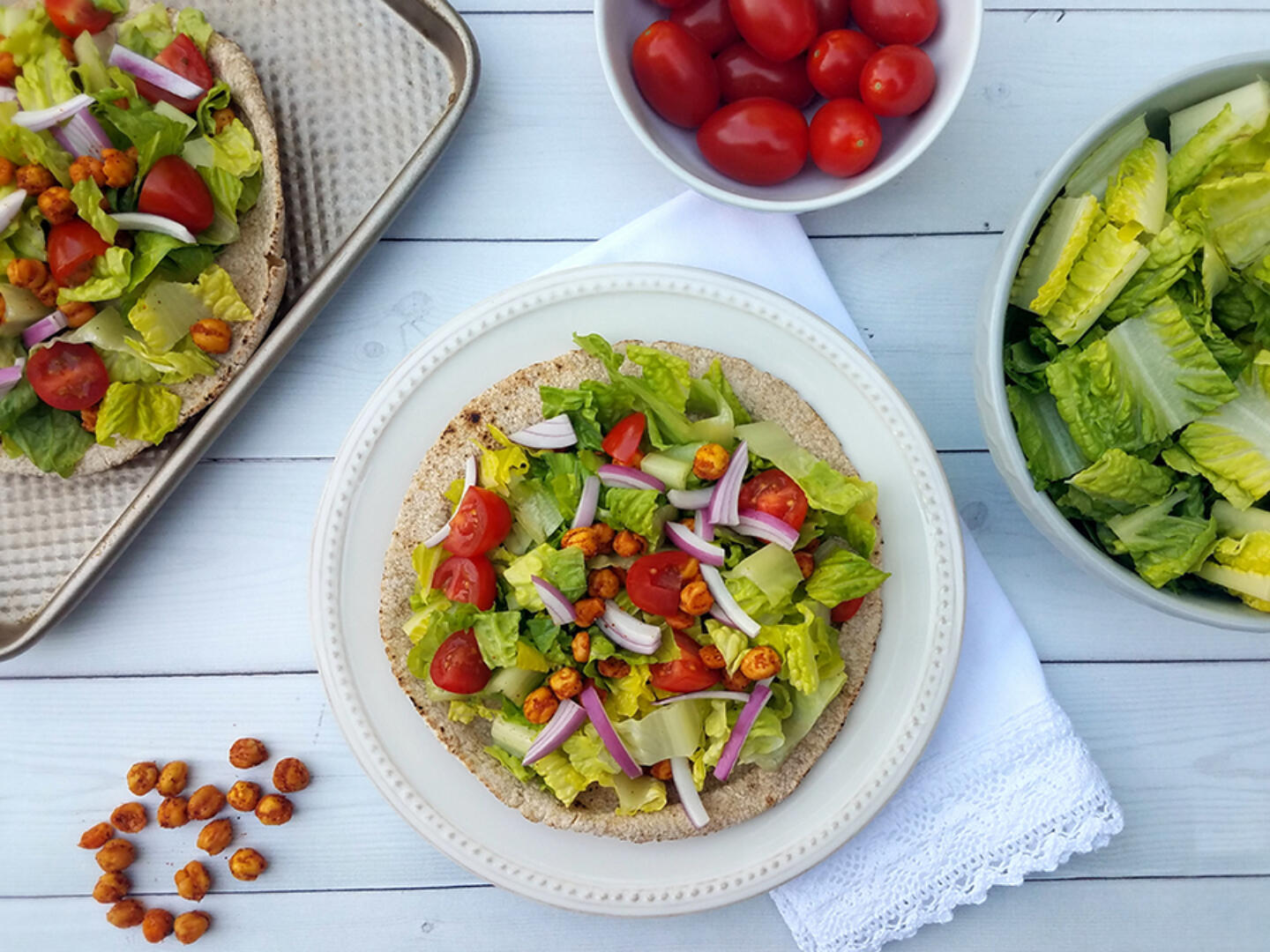 Ingredients
1 head of Foxy romaine, washed and chopped
1 (15 ounce) can chickpeas, drained and rinsed
2 teaspoon Italian seasoning
½ teaspoon garlic powder
1/8 teaspoon paprika
3 tablespoon whole wheat panko bread crumbs
2 6-inch whole wheat pita breads
¼ cup red onion, sliced
1/3 cup cherry tomatoes, halved
Pinch of salt and pepper
Dressing:
2 tablespoons balsamic vinegar
1 tablespoons olive oil
2 teaspoons Italian seasoning
Dash of salt and pepper
Preparation
Roast the chickpeas: Preheat oven to 400 degrees. Add chickpeas to a large baking sheet. Drizzle with 2 teaspoons of olive oil and toss to coat. Sprinkle Italian seasoning, garlic powder, paprika, bread crumbs, salt and pepper. Toss until chickpeas are evenly coated. Roast in the oven for 15 minutes. Carefully rotate chickpeas and roast for another 15-20 minutes or until golden brown.
To make the dressing, combine all dressing ingredients and mix using a fork or whisk. Set aside.
Gently spray or brush ½ teaspoon of olive oil over each pita. Bake at 400 degrees for 4-5 minutes until crispy and golden brown.
Add romaine, onions and tomatoes to a large bowl. Drizzle over dressing and toss to combine.
Take toasted pitas out of the oven and onto a serving tray. Transfer a few handfuls of lettuce to each pita. Add a few spoonful's of roasted chickpeas to each pita. Cut into 4 pieces each and enjoy!