All Recipes
Strawberry Golden Beet Salad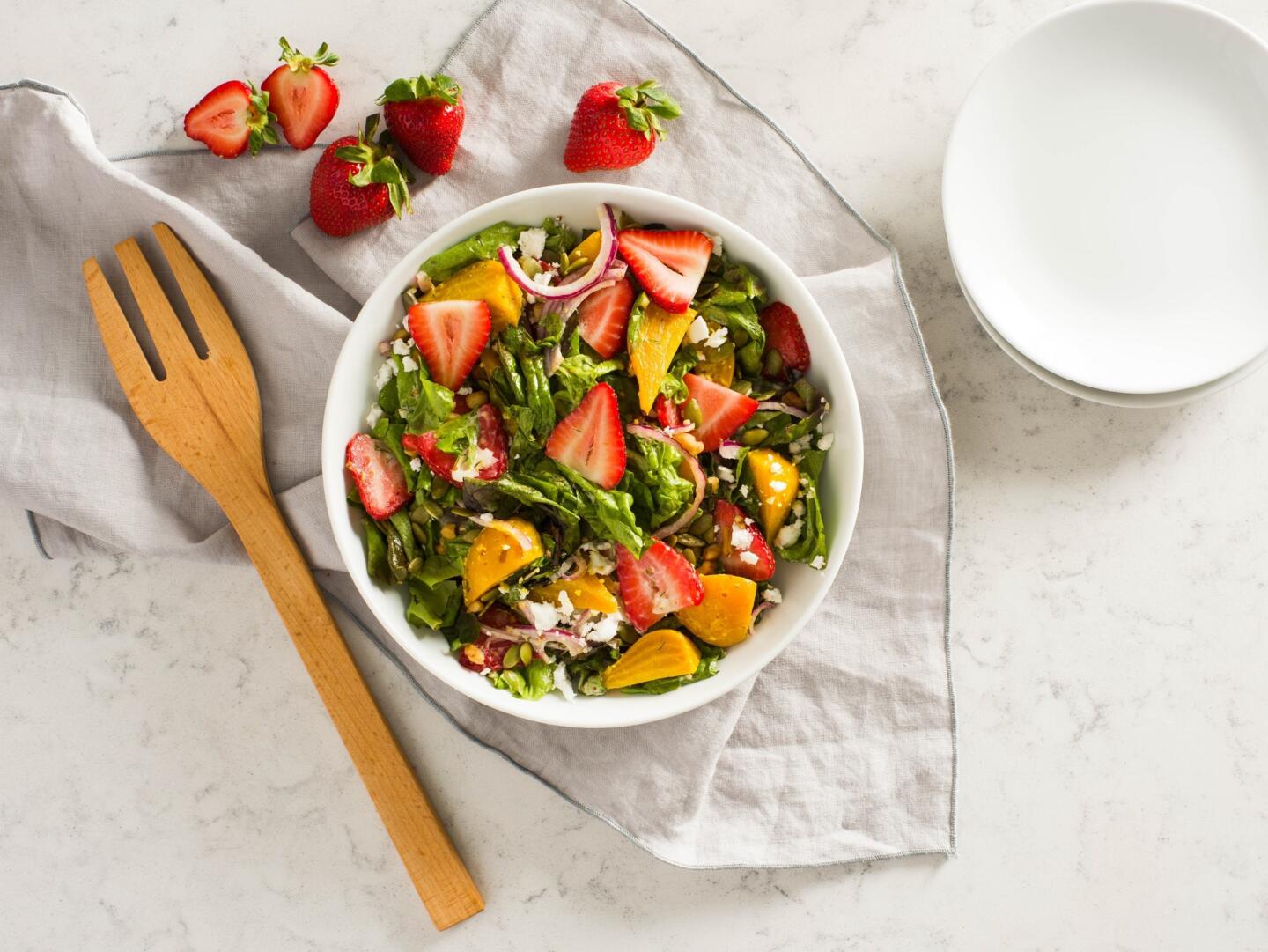 Ingredients
1 lb Foxy Organic Golden Beets, peeled and halved
2 tbsp chopped Foxy Organic Dill
1 lb Foxy Red Leaf Lettuce, washed and torn
1 cup thinly sliced Foxy Strawberries
4 boneless skinless chicken breasts
1/2 cup light mayonnaise
1/4 cup grainy Dijon mustard
2 tbsp lemon juice
2 tbsp cider vinegar
1/2 tsp each salt and pepper
1/2 cup shaved red onion
1/2 cup crumbled feta cheese
1/4 cup chopped toasted walnuts
1/4 cup pumpkin seeds
Preparation
Place beets in saucepan; pour in enough cold water to cover. Bring to boil; reduce heat and simmer for 12 to 15 minutes or until tender. Drain and let cool. Cut into wedges.
Meanwhile, preheat grill to medium-high heat; grease grates well. Using small heavy-bottom saucepan or meat mallet, pound chicken to 1/2-inch thickness.
Whisk together mayonnaise, mustard, lemon juice, cider vinegar, dill, salt and pepper; toss half with chicken. Grill chicken, turning once, for 12 to 15 minutes or until instant-read thermometer inserted into center of breast registers 165°F. Slice chicken thinly.
Toss together lettuce, strawberries, onion, beets and remaining mayonnaise dressing. Divide evenly among four serving plates; sprinkle with feta, walnuts and pumpkin seeds. Arrange chicken over salad. Serve immediately.
Tip: Also delicious with grilled salmon, shrimp, pork tenderloin or tofu.